The key actions CIOs must take to anticipate their industry disruption and align their IT organization to the competitive challenges of the digital economy.
Many business leaders are in the wait mode, they doubt the IT vendors' agenda; they rightly feel that infrastructure alone won't help to adjust to the ongoing industry disruptions. How about the impacts on the business value chain? How about Cloud, DevOps, Internet of Things (IoT), and Big Data integration into coherent and consistent business capability? How to facilitate change adoptions? are some their concerns.
Things aren't as simplistic as deploying infrastructures disconnected from business concerns. What you need right now is a transformation plan that'll help your organization survive the disruptions and make benefits.
In this article I share lessons learned advising CIOs on their digital transformation and leading highly complex IT organization transformations.
…
The objective is to meet the digital economy's technological challenges through implementing your digital infrastructure in the form of a public, private or hybrid cloud platform: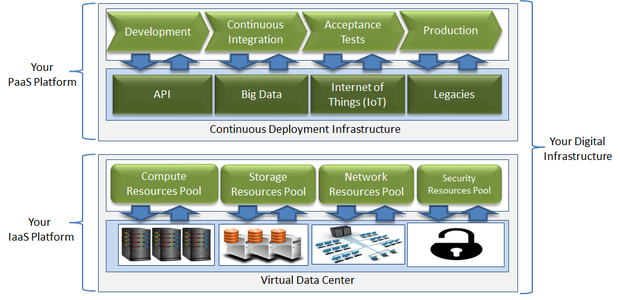 To get tangible benefits including effective management and monetization of the massive data generated by IoT activities and accelerated resource provisioning and application delivery, make sure the following is accomplished:
A virtual data center is implemented as an IaaS platform. AWS, Google, and Rackspace are my recommendations.
A continuous delivery infrastructure is implemented as a PaaS platform. AWS CodePipeline, Microsoft Azure and Apprenda are my recommendations.