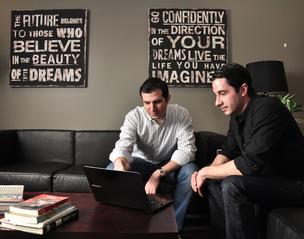 Apprenda, a software developer in Clifton Park, NY, secured $16 million in venture capital and is preparing to expand in western Europe. Pictured above: from left, Abraham Sultan, vice president of engineering and CEO Sinclair Schuller.
Apprenda landed $16 million in venture capital, doubling the company's total financing in one day.
The Clifton Park, NY software developer announced this morning that it secured the funding, bringing its total financing up to $32 million.
The investment was led by Safeguard Scientifics along with Ignition Partners of Washington and New Enterprise Associatesof Maryland.
Sinclair Schuller, CEO of Apprenda, said the funding will help take the company international by next year. The graduate of Rensselaer Polytechnic Institute in Troy, NY, co-founded the company in 2006.
He said opening an office in western Europe would better serve the company's rapidly growing list of Fortune 500 customers. Read more on that here.
Apprenda writes code that allows businesses to run computer applications. Nearly all of Apprenda's customers have offices in Europe, Schuller said.
"A lot of our workflow is coming from Europe, with a big presence in western Europe," he said. "We are looking to open an office there to be on the ground with our customers."
Abraham Sultan, Apprenda's vice president of engineering, said the funding would also help to hire 150 employees over the next couple of years. The company currently has 50.
Schuller and Sultan said there is a big demand for Apprenda's services, and they are projecting very large growth for the company.
"I think looking at how quickly the market is evolving it's not ridiculous to think that our company could go all the way," Schuller said.